04 listopada 2017, 10:21 | Autor: admin
Today, we own a portfolio of over 10 properties in Central London, and some abroad. My main goal, however is yet to be accomplished, and that is to succeed in supporting and helping millions of people in third world countries in the health and education sector – says Agnes Khan, translator, businesswomen, entrepreneur and charity supporter in an interview with Brin Best.
When did you come to live in the UK and what were your early experiences like?
"I first came to the UK in year 2000. I knew no-one, couldn't speak English and arrived with only £200 in my pocket. On my first night in the UK I slept in my sleeping bag in the corridor of an ex-council flat, as the person who had agreed to arrange a room for me didn't keep their promise. My story wasn't very enouraging at the start, but I always believed that I was going to be happy here. That strong, powerful feeling was inside me since the very beginning. I came to the UK for a better, more satisfying life. I left Poland to realise my dreams in the UK. I always had the courage to dream big, and the idea of me supporting others, being financially independent and a citizen of the world, were always in me.
The way I look at my past experiences is much different now, than it was at that time. Seventeen years ago I was starting a new phase of my life, from scratch. Like many other people who move away from home to live in different countries. With no help from friends or family, and with no recommendations, starting a new life and a new business was a challenging experience. My recipe for success in foreign country is this: adopt the culture, have a positive attitude to new experiences, learn from challenges and do not complain."
You soon moved into the property business. Tell us more about this.
"The reason for starting my own buisness was to have enough income to spend time with my family (which at that stage I was only planning), and to do other projects too. I realised very quickly that the property business – having a portfolio of my own houses and apartments – would give me what I was looking for. I've always wanted to use my time and talents to help less privileged people in the developing world, so my challenge was to build a business that would support me to fulfil my dreams.
Intitally I was working in a small office in central London, which was owned by an achitect. Very soon after I starting work at the office, I suggested opening a property sales and letting service. Soon after that I also introduced property management into the company portfolio, and I became a business partner.
I remember when our clients were visiting our office, some of them were property owners, others were tenants – very smartly dressed, well educated people. I was then questioning myself: what was the different about that first group who were having a relaxed life, enjoying holidays and were often not even as well educated as the second group? The tenants were paying huge rents every month – why? Why they didn't they buy their own properties and have their own busineses; why were they not independent? I didn't understand the mindset, but I decided at age 25 that I wanted to belong to the first group. I wanted to be a property owner.
I had no plans or strategy, nor the money to buy properties. I was earning around £18,000 a year, but I'd made my decision. I decided to buy property in Central London. Within a short period of time I created three companies, all linked to property and its maintenance. Within a year and a half had generated enough income that I was able to buy my first property in West Kensington. I employed people to work on the properties, creating inventories, cleaning and decorating. My first property cost £225,000, and I paid 10% of the value of it, plus the expenses. The rest of the money was borrowed from the bank.
Soon I made another decision. I was going to buy one property a year; I was wanted to have my own property business. So I created a small estate agency, and my company also managed properties for clients, which including letting, decorating, dealing with gas certificates and other legal issues and many other things. However, getting new clients for our services was a huge task in the beginning. I was only 25 years old, with no previous exprience, and with no mentor or money. It was just me, my vision, courage and huge belief that I could accomplish whatever I had a passion for, which kept the momentum going, and helped me to accomplish my goals.
The other challege in the UK was that I didn't have many friends, or even people that I could talk to, or socialize with – I'd left all my friends and family back in Poland. It took some time to build up relationships again.
I'll always remember the very valulable advice given by my professor at university in Poland. She said: 'Agnes, in the UK you will find a huge variety of cultures, cusines and lifestyles, but remember you should always look for the values in people.'
Today, we own a portfolio of over 10 properties in Central London, and some abroad. My first property cost £225,000; I still own it today and it's worth approximately £700,000. The fact that I don't have to work to earn a living has given me the freedom and time to pursue new interests. I am also able to spend 12 weeks a year on holiday, and have visited many countries around the world.
My main goal, however is yet to be accomplished, and that is to succeed in supporting and helping millions of people in third world countries in the health and education sector. This project has begun but there is still much work ahead of us."
You married a man from Pakistan and as a result your household is very diverse in terms of culture, religion, languages etc. How does this work out?
"I believe that our household, our family (Arian, age 14 and Rayan, age 8), is a great example that we, as human beings, can overcome any barriers, boundaries, myths and opinions and live happy lives, without being influenced by the media, and other people (even friends or family members). As the old saying goes, 'Where there's a will, there's a way!'. We love every day and we enjoy the diversity of both cultures, speaking three languages at home (English, Polish and Urdu) and mixing our cuisine. We always have options to choose from. We understand the Western but also the Eastern approaches to life, and our children have a broader perspective. This enriches our experiences and the way we look at the surrounding world and its problems."
You have recently launched the '5 Flavours of Health' initiative in the UK. What is the philosophy behind this, and how do people benefit from it?
"Yes, I've recently created the '5 Flavours of Health' initiative, through which I want to inspire and guide people to a healthier and happier life. It is based on the books Philosophy of Health and Philosophy of Life, which were written by Anna Ciesielska and originally published in Polish. I've translated these books into English, and together my own studies, personal experiences and the input of professionals I want to share this wisdom with people around the world.
'5 Flavours of Health' is ultimately a lifestyle, and we focus on our body, mind and spirit. We guide people to a seasonal and balanced diet, which will help to prevent many of the 21st century 's health issues, such as allergies, asthma, obesity, and problems with metabolism, the heart and many more. I've helped my son and many friends to get rid of allergies, asthma and other health ailments. I want to show the people of the UK that they can also benefit. We deliver our messages through our seminars, workshops, online courses, and our eBooks and printed books."
What do you feel your contribution to the UK, and the wider world, has been over the years?
"Creating successful businesses in the UK, employing people, supporting different charities and taking part in social life over the years have been part of my contribution to the UK.
I've supported several children's charities in the UK over the years, and I also support an orphanage in Skierniewice, my home town in Poland. Over the years I've also supported charities in many countries overseas, including Palestine, Syria and Uganda and I'm now organizing a new charitable project in Pakistan.
From a broader perspective, I've inspired many people to work towards their dreams, aim for more in life and believe in themselves. I'm a mother, wife, translator, businesswomen, entrepreneur and charity supporter, who's living life on my own terms."
FIND OUT MORE
FACEBOOK PAGES: Agnes Khan, 5 Flavours of Health
***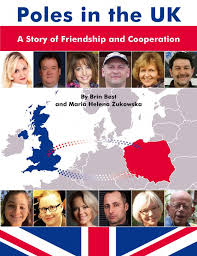 This interview was carried out as part of the 'Poles in the UK' project, and is linked to the book Poles in the UK: A Story of Friendship and Cooperation (by Brin Best & Maria Helena Żukowska, 2016).
For more details, and to download 
a free eBook PDF version of the book, visit: www.polesintheuk.net.
Przeczytaj też
Udostępnij
About Author
komentarze (0)