Facebook Детейлинг "I would like to be able to introduce Polish food to a new audience, as well as adding my voice to the food memories and experiences of Poles around the world", says Renata Behan (née Marczak), British food writer of Polish heritage, the author of a cookbook "Wild Honey And Rye" in an interview with Brin Best.
Instagram Автостудия Глянец there Tell us about your Polish heritage and how it has influenced your cooking.
"I was born in Manchester (née Marczak), to parents who were proud to be part of the strong Polish diaspora there. My parents and grandparents were World War II émigrés from Poland. I've always been inspired by the Polish kitchen; I grew up eating Polish food and my Mama tells me I was weaned on beetroot soup. My dual-heritage has given me a unique perspective into the world of Polish food, traditions and culture.
My father was just 16-years-old and living with his family in the Kresy region of Poland when World War II broke out. Soon after, he and his family were deported on cattle trucks to Oblast Archangelsk in Northern Russia. In 1941 an amnesty was granted to some of the Poles being kept in Russia, and my father and his twin, now aged 18, were released and set off on a journey to find General Anders, who was forming a Polish Army. They later joined the Armoured Tank Regiment as part of the Polish Armed Forces in the West, and fought with the 1st Polish Armoured Division, diverting from Anders to join General Maczek in Scotland, and taking part in the battle of Falaise. At the same time my grandfather, who had earlier fought in the Polish-Bolshevik war, and my uncle had also joined the Polish Army in exile. They both took part in the battle of Monte Casino.
On my maternal side, my grandparents had just married and were living in Wołyń. With one young child already and pregnant with my mother, they escaped the atrocities and spent the war years in Austria working as hard-labourers, surviving on a piece of bread a day. Their memories were painful, though I do remember both sides of the family talking a lot about how they would forage for food; my father recalls a basic diet of kasza (a type of porridge made from grain) and sometimes picking a handful of berries or mushrooms in the forests. Babcia occasionally managed to find a potato or a handful of nettles.
Many years later, and finding themselves in a Polish re-settlement camp in Doddington, Cheshire, Babcia would wait for the ration van and swap potatoes for small amounts of sugar and yeast to bake bread or Polish cakes. I recall having a sense, even at an early age, that Babcia's allotment garden, once she had later relocated to Manchester, was filled with potatoes, beetroots, green beans and dill, and reminded her of her home in Poland. She would always be frying potato placki, or making soup – her homemade beetroot soup always stands out in my memories. My Mama, too, became an excellent family cook and over the years has taught us how to make the clearest chicken soup, rosół or pierogi, usually on an industrial scale, and would often make racuchy – the fluffiest apple pancakes to have as a treat after school. So of course, all these recipes feature in my new book."
How did you begin your career as a food writer? How did this lead on to the publication of your book?
"I'm something of an accidental food writer. I originally studied languages (having already spoken Polish from a young age and taken Polish A-level) and graduated in Contemporary Eastern European Studies from the School of Slavonic and Eastern European Studies, part of UCL in London.
I'd undertaken some work experience in a solicitor's firm and enjoyed it so much that I enrolled on a law conversion degree for two years. After a period of training, I qualified as a solicitor, specialising in criminal law.
I took an extended period of maternity leave to stay at home with my children, and it was during those years that I began spending more and more time in the kitchen. The responsibility was on my shoulders now to feed and nourish, and I often phoned home to ask Mama for her recipes or ideas on what to cook.
I volunteered for a local parenting charity and began writing a few parenting articles, and since I liked writing and found that it was something I could do from home, I looked into taking a writing course. I also took one or two day-courses in cookery, because it was something I really enjoyed. At the time, I had started to read a few food blogs, although I was a bit nervous about starting my own.
In 2010, shortly after my second child was born, I found an online Diploma in Food Journalism. My first assignment was to start a food blog and so my website was born. I found that I had lots of things to write about and I enjoyed sharing my recipes. In 2011, I was invited onto a show called 'Weekend Kitchen' at BBC Three Counties radio, as a home cook and blogger. I took some of my Polish recipes to the show and received some very good feedback. One of my Polish recipes was also featured in delicious magazine. I thought about writing a Polish heritage recipe book then, but found it quite hard to get my ideas off the ground, so I just continued 'hobby blogging' as and when I had the time.
Over the course of about two years, I started to receive approaches to create recipes for brands and other websites, so I registered as a sole trader. I also began writing short feature columns for JamieOliver.com, in 2012, and was able to share a few more of my Polish recipes with a wider audience.
Just after my third child was born, as a member of the Guild of Food Writers, I was selected to be a judge at their annual awards, in 2015. A huge pile of cookbooks landed in my living room for the category I'd been selected to judge. I soon became completely immersed and whilst myself and my fellow judges considered books from every food genre and category imaginable, Polish food hadn't been represented at all. I decided that I wanted to fly the flag for Polish food and I felt I had quite a lot to say on the subject!
At the Guild's party for the award winners, I met by chance a lady named Heather Holden-Brown, who soon after became my literary agent. She could see the book inside me, bubbling away, desperately needing to be written.
I also went back to Warsaw with some friends that year. Sadly, my father had passed away a few months earlier, so I wanted to visit the memorial to his regiment, the 1st Polish Armoured Division, to lay some flowers. Whilst in Poland during this visit, I was completely taken aback by the contemporary food scene, which had dramatically changed, and it was really this modern food scene that I wanted to capture in my book.
Heather introduced me to Pavilion Books, who loved the idea of a contemporary Polish cookbook and Wild Honey & Rye was born, bringing together some of my treasured Polish heritage recipes, as well as new ideas I had collected on my travels to Poland. The process, from being commissioned to publication, took around two years and was a lot of hard work, but I'm glad I found a dynamic publisher who understood what I was trying to achieve."
You are now one of the UK's leading gastronomy bloggers. How did you establish yourself online?
"I've had seven years to flex my wings, to immerse myself into the world of food writing, to cook, write and test to a high standard. My online community has always been supportive of all my recipes, but my Polish recipes always seemed to strike a particular chord. In 2014, I was invited to write a piece on Polish food by the Ministry of Foreign Affairs of Poland (Five Reasons to Fall in Love with Polish Food), which I published on the Huffington Post website, and which received a huge amount of social media interaction.
So I'd say that my online presence has grown slowly and steadily and with lots of lucky breaks along the way. The benefits of having a food blog of my own have been that I've been able to gain freelance work and whilst I've written recipes and produced content for many brands and publications, my blog has always been a space of my own to connect with my community. Social media in all its forms is really just an extension of this concept – I connect with people, mainly on the topic of food and travels."
What are you trying achieve with your book?
"I would like to be able to introduce Polish food to a new audience, as well as adding my voice to the food memories and experiences of Poles around the world. I'm not trying to reinvent Polish food, and I really respect the old traditions. I'm simply trying to add a modern spin to Polish cuisine, in some cases speeding things up; in other cases, making dishes more achievable for people cooking at home.
I hope I'll be able to change people's perceptions of Polish food, while emphasizing that the cuisine of the country is based on simple, high quality and seasonal ingredients. All the ingredients in my recipes can be found in supermarkets or Polish delicatessens in the UK. In some cases I've provided alternatives to Polish ingredients in my recipes to simplify things, but the emphasis throughout is on accessible recipes that everyone can enjoy. I also want to encourage people to experiment and innovate with my recipes – nothing is fixed.
For people who feel they are beginners I can recommend, as starting points, beetroot soup; crêpes with sweet cream cheese; and plum and poppy seed tray bake (see the recipe elsewhere in the newspaper).
How has has the food landscape changed in Poland in recent years?
"It's changed in so many ways, including the locations where food is served, the infrastructure and how food is prepared. Many new markets are springing up, including a fantastic organic market in Warsaw, and old locations such as factories have been transformed into food halls. There are some outstanding Polish chefs (and two Michelin-starred restaurants) who are respectful of Polish traditional ingredients. Many people do not realise that Polish cuisine includes influences from many different countries, including Italy. And today Poland's best chefs explore other countries and bring ideas back with them.
I've maintained the Polish tradition of pickling and fermenting in my book, and have vivid memories of visiting a family member in Poland in the 1980s, whose basement was full of pickled food 'in case there was another war.'"
What are your plans for the future?
"I have lots of other recipes and I can't wait to share these with everyone. I'm also planning to travel in Poland and have several exciting projects planned there, as well as hoping that my book will be translated into Polish (and other languages). I will also be carrying out several book signings and cookery demonstrations in the UK. And, of course, I can't wait to find out what people make of my book!"
FIND OUT MORE
Wild Honey & Rye: Modern Polish Recipes was published on 7 September by Pavilion Books, and is available online and at all good bookshops.
@renbehan Twitter/Instagram
PHOTO CREDITS
Yuki Sugiura
***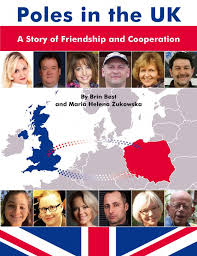 This interview was carried out as part of the 'Poles in the UK' project, and is linked to the book Poles in the UK: A Story of Friendship and Cooperation (by Brin Best & Maria Helena Żukowska, 2016).
For more details, and to download 
a free eBook PDF version of the book, visit: www.polesintheuk.net.
Przeczytaj też
Udostępnij
About Author
komentarze (1)