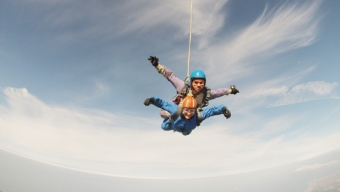 Facebook Детейлинг view
I wanted to contribute something meaningful and useful to society, a good cause which made a difference – says Anna Katarzyna Collins, the co-founder and a trustee of the charity The British Polonia Foundation an interview with Brin Best.
How did you end up living in Leeds?
"I moved to the UK ten years ago, and lived in many different places before I settled in Leeds for good. I initially arrived in Scotland in 2006, relocated to Castleford after finishing my Matura exam, then thankfully ended up in my beloved Leeds. I'm really attached to this awesome city, and even decided to have its name tattooed on my right leg a couple of years ago! Although I was originally planning to go to the USA (it had been my dream for 15 years), I settled happily in the UK instead. Two years after moving to Leeds I decided to study for a three year BSc (Hons) degree in business and management at the Bradford University School of Management."
How have you found life in the UK? Were you accepted by British people?
"Definitely easier than in Poland, and very different to what I was used to. I would say I found it challenging and demanding, especially with all the new things like queuing, four  seasons of weather in one day, driving on the other side of the road and so on. It was all a culture shock. It didn't take me long, however, to adjust to British culture, with one exception. I don't think I'll ever understand drinking tea with milk!
I was accepted but not straightaway; I did have some racist comments and behaviour towards me, but I think only narrow-minded people behave in such ways."
Your surname is Collins. How did this name come about?
"I've been asked this question a lot since I officially changed my surname. In fact I'd been planning to change my surname for many years in the run-up to gaining British citizenship, which I gained in 2014. I chose Collins because it's easy to spell, simple to pronounce and it has good associations with the publishing company and Jackie Collins, the author."
You were the co-founder and became a trustee of the charity The British Polonia Foundation. Why did you get involved and what does this voluntary work involve?
"I wanted to contribute something meaningful and useful to society, a good cause which made a difference. After being interviewed for the book Poles in the UK: A Story of Friendship and Cooperation I was invited to help launch a charity and work as a trustee alongside the authors to publish the book. We named the charity The British Polonia Foundation. Charity status gave transparency to the project, made the whole process of promoting and marketing the book easier, and gave us a more professional structure.
The wider aim of the charity is to educate the public in general about the shared history between Britain and Poland, and the positive contribution that Polish people have made to the UK. Setting up the charity involved a lot of paperwork to begin with, as it is complicated to set up a registered charity in the UK. Another important role I had was speaking at a technical school in central Poland which I have links with. I was able to build awareness of our significant book among students and staff during my visit, and talk about the Polish contribution to the UK."
What was the reaction like to the book your charity published?
"It was great! We had a lot of publicity in the UK, Poland and around the world. This included a live interview with Kasia Madera on the BBC News Channel, where my contribution to the project was mentioned. I was also interviewed for the biggest Japanese newspaper (one of the world's largest newspapers, by readership) about my life in the UK and the book.
The book was released at such a pivotal time for the UK, following the Brexit vote, which helped generate news coverage as we had such a positive story to tell. Last September we had a book launch where the trustees had to speak in English in front over 150 people, and the audience really appreciated our work. Everyone loves the book and the overwhelmingly lovely comments we've received via various channels are incredible."
Where do you work today?
"I work in the aviation industry – a very fast paced, demanding and I would say challenging industry, especially when we have 'aircraft on the ground'. I always compare this to breaking news, as it can happen any time and it certainly keeps logistics staff on their toes."
You've lived in the UK for 10 years. How would you describe this time?
"It's definitely been a rollercoaster! Changes, challenges and many other things to deal with. A lot things have changed since I came here. Only last month I celebrated my 'decade in the UK' party with a specially commissioned cake made by my friend Wioletta Adamska (she also made me a cake when I became a British citizen three years ago too). I'm quite resilient to hardship, hence I see any setbacks in a positive light. But I must admit, living on your own in a foreign country is challenging."
You have a very wide network of contacts in the UK, within and outside the Polish community. Do networking skills come naturally to you?
"My networking skills have always been pretty good. I suppose I enjoy meeting people  so it seems natural to approach them, even if they're well known or influential in their field. We're are all human beings, after all, so there's no harm in asking for a connection. I then try hard to build rapport. My network came in really useful during the promotion of the book, with my fellow trustees often mentioning how I helped to put our charity in touch with key people and influencers."
How do you spend your free time?
"I enjoy travelling and reading books. I've visited Italy, France and Mexico recently and love exploring the UK too. I've been skydiving as well! I need adrenaline in my life to keep me going. I always try to utilise my precious time efficiently and have been doing voluntary work for quite some time now – always for a good cause. For example I volunteered for an organisation called Positive Bradford during my university days, and of course have been involved with a British-Polish charity for the past year or so. Also, I've engaged with various courses recently to help me develop as a person, as it's been exactly four years since my graduation and I wanted to carry on studying."
What are your plans for the future?
"We'll just have to wait and see, but sky's the limit!".
***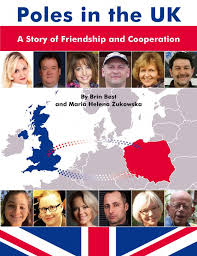 This interview was carried out as part of the 'Poles in the UK' project, and is linked to the book Poles in the UK: A Story of Friendship and Cooperation (by Brin Best & Maria Helena Żukowska, 2016).
For more details, and to download 
a free eBook PDF version of the book, visit: www.polesintheuk.net.
Przeczytaj też
Udostępnij
About Author
komentarze (0)