11 lipca 2017, 10:00 | Autor: admin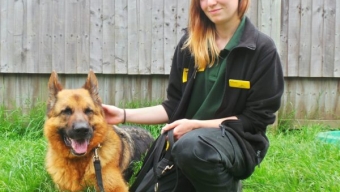 A different type of British-Polish friendship
In the last couple of weeks animal lovers have been captivated by the story of Caleb the German shepherd dog, who found himself at the Kenilworth Dogs Trust centre in Warwickshire.
The staff at the centre were initially puzzled as to why this handsome four-year-old animal was not responding to their commands. Then, after discovering Caleb previously had Polish owners, the staff at the centre asked a Polish visitor to spend some time with him. And as if by magic within minutes Caleb relaxed and was interacting excitedly with the visitor. In the words of Homing Centre Manager Sandra Foulds: "There's no stopping Caleb when he's being spoken to in Polish, and he's really keen to show off his tricks."
One of the touching aspects of this story is that, following the discovery of a language barrier, the staff at the centre learnt some Polish commands to allow them to care for Caleb until he can be found a new home. Although staff at the centre have said that he is now also starting to understand basic English commands, they're hoping to find him a new home with a Polish speaker. And that should be pretty soon, as there's already been much interest in this now famous German shepherd dog.
The story of Caleb was covered by many media, BBC and has reached far and even prompted the Consul General of Poland, Krzysztof Grzelczyk, to say that he wished he could take Caleb home. It is, however, not the only story showing important British-Polish links in the animal world, as I will explain in this article.
A tale of two Westies
One of my favourite dog breeds is the teddy bear cute West Highland terrier. It  was therefore with great glee that I learnt that two of my Polish friends had gorgeous white examples of this fluffy little breed.
Barry, from Leeds, was the first of these Westies that I met. Although blind in one eye he was super friendly. However, as he was born in Poland and had only ever heard Polish spoken he only understood commands in that language, and I needed some help to enable him to play with me. I realised had to learn some new Polish vocabulary to interact fully with Barry, but what a fine reward was awaiting me!
I was, on the other hand, hugely impressed when I met Yeti, who lives in Hampshire, because he's a fully 'bilingual' dog. This very cuddly senior dog, who has mixed heritage as he was born in Wales, is able to understand a wide range of commands in both Polish and English. This is down to the hard work of his Polish owner, who is also an English language teacher.
A land where English is spoken
Bilingual Polish-British dogs do not, however, just live in the UK, shoulder to muzzle with their Polish owners. This is a point illustrated perfectly by one-year-old Poker, a frequently naughty but linguistically gifted miniature schnauzer, who lives near Kraków.
During an interview facilitated by his human, I was able to discover some fascinating insights into the life of this handsome young terrier, whose favourite food is home-cooked chicken, rice and vegetables (but mainly the chicken!).
It turns out that Poker's human has taught him basic commands in both Polish and English, so that he can understand such words as 'sit', 'stay','lie down', 'come' and 'good boy!' in both languages. When I asked Poker why his human has taught him these commands in English, despite his home being in southern Poland, he replied: "She promised me one day we would go on a trip abroad, where English is spoken!". I predict that when Poker finally sets paw in the UK, his impressive language skills are sure to get many tails wagging.
Radio station cats
In another part of England some Polish friends who work at a radio station adopted two abandoned kittens about three years ago. Found helpless and malnourished in a garden, the black-and-white duo were named Zosia and Krysia and were lovingly  brought back to full health over a period of months.
These friendly cats love to visit the radio station, where they've taken a special liking to one of the audio mixing machines in the production studio, on which they love to sit – probably because they're not allowed to!
They are quite naughty and have even learnt to open doors by jumping on the handle! The cats currently understand basic commands in Polish, but their owners are considering teaching them English ones too.
Language skills can be so useful – even for a cat! So much so in fact that another story from the last year relates directly to this topic. A previous English language student of mine, who's based in Yorkshire, owned a cat which was British by birth, yet Polish through language. Aware of the difficulties this could cause he asked me to work with Kitka for a few minutes each week, in order to improve the feline's English skills!
This won't be necessary, however, for Kicia, another Yorkshire kitten, who after being found all alone was looked after jointly by a Polish-British friend and some Brits on her street. My friend always spoke to the kitten in both Polish and English, before the animal found her 'forever home' with the British couple nearby. Now she only hears Polish occasionally, when my friend goes to visit, or when the little Polish girl who lives on the street talks to the pussy cat. There's no doubt, however, that this cat has mixed cultural heritage, thanks to her early life immersed in two languages.
My Polish-British friend, by the way, now has her eyes on a hamster, as her landlord is more likely to approve a small pet. Could this end up being the first bilingual rodent in Britain?
Rabbiting away in Polish
My research for this article has shown that many Polish people are animal lovers, and once settled in the UK they readily step in to adopt dogs and cats, creating a unique sort of Polish-British cooperation. I can confirm in this article, however, that this support is not just confined to larger animals.
Another Polish friend living in Yorkshire, who's always loved rabbits, recently adopted two English-born lionhead bunnies (called Ben and Jerry) from a Pets At Home store. She and her partner hadn't intended to take any pets home when they visited the store, but the sight of the two cute brothers looking lonely melted their hearts. The thought that they could be separated was too much for my friend, so she and her partner adopted them, purchased all the equipment, food and snacks to make them comfortable, and took them home.
Recent studies have shown that even smaller pets can understand simple commands, which backs up my friend's belief that her bunnies do understand her when she speaks to them in Polish as they enjoy a snack or play on the sofa.
The remarkable world of animals
The wide range of human-animal connections highlighted in this article show that British-Polish friendship goes well beyond the connections that people have made, and continue to make with each other, on these islands. Whether we're connected through a wagging tail, a friendly meow or the welcoming whinny of a pony, vital links between Britain and Poland exist in the animal world too. They create a wonderful British-Polish circle of life, forever joyful and forever strong.
Brin Best
KONIK POLSKI – The Polish 'nature ponies'
Ponies called koniks are being increasingly used on nature reserves in Britain to help conserve some of our most precious wildlife.
A hardy breed
These ponies are called konik from the Polish word for 'little horse'. They are a small and stocky, dun-coloured breed, with a thick black mane and tail, and with black stripes down the back and legs.
Koniks are extremely hardy and are able to winter outside in severe weather, right down to temperatures as low as -40 degrees Celsius. They are adapted to foraging in the wild and will eat a wide range of vegetation including scrub, rushes and roots, as
well as grass. They are known to be intelligent and adaptable, have been observed carefully exploring new sites, and will adjust their diet depending on season.
Polish ancestors
Koniks were originally believed to be descended from the tarpan, a pre-historic wild horse that continued to live in Central European forests up until the late nineteenth century, when it became extinct.
However, recent genetic studies put this into doubt, and indicate that koniks are very closely related to many domestic horse breeds. This ties in with the view that the breed originates from farm draft horses, used on Polish farms in the summer months, but released and adapted to fend for themselves over the winter season when animal feed was in short supply.
Various breeding programmes in the nineteenth and early twentieth century aimed to add the features of the wild tarpan to the breed. In the 1920s a Polish biologist from Kraków, Tadeusz Vetulani, became interested in koniks and later set up a reserve for them in the Białowieża Forest. Koniks were then introduced to more nature reserves within Poland, and subsequently to the Netherlands and other European countries.
Koniks in the UK
In the 1990s koniks were brought to the UK to help manage a number of nature reserves where natural grazing from large herbivores was absent. Without grazing, grassland and marshland habitats will eventually cover over with scrub and ultimately develop into woodland.
Koniks will readily forage on a variety of vegetation, holding back scrub growth and preserving wildlife-rich grassland and fens. Their hardiness means they can thrive even in the poor quality grazing areas within a nature reserve, and do not require grass improved with fertilizer.
Some of the first UK nature reserves to introduce koniks were Redgrave and Lopham Fen (Suffolk Wildlife Trust), Hickling Broad (Broads Authority and Norfolk Wildlife Trust) and Wicken Fen (Cambridgeshire, National Trust). They have now been introduced widely across the UK, from Kent to Aberdeenshire, with great success in controlling rank vegetation to the benefit of threatened birds and other much-valued wildlife.
Amanda Best
Text about koniks taken from Poles in the UK: A Story of Friendship and  Cooperation.
Przeczytaj też
Udostępnij
About Author
komentarze (0)