14 kwietnia 2017, 10:00 | Autor: admin
I've represented Ireland three times, in Mrs Europe in Sofia, winning the best personality in Europe, and in Mrs Universe in Minsk and Mrs World in China, placing in the top 20 from around the world. Now I'd like to write a book about domestic violence and self-defence – says Monika Walsh in an interview with Brin Best.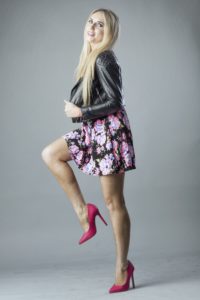 Why did you first move to Ireland and how easy did you find it to settle there?
"I moved to Ireland 13 years ago as a very young girl, still in the process of finishing my final university exams. I left Poland to improve my English and I wanted to go to England, but the English school I'd hoped to go to was fully booked, so I went to Ireland instead.
I didn't know anything about Ireland, but my mum said if they speak English there just give it a go! It was therefore completely by chance that I ended up in Ireland, but I do believe everything happens for a reason. Other members of my family had settled in the USA and Israel, and I knew one day I would travel too and have neighbours from all around world.
When I arrived it was completely different to the Ireland you see today. With fewer Polish people there were not as many Polish shops and events as today. It was also easier to get a job or rent a house.
People are so friendly in Ireland and you feel great around them; you notice the difference when you travel to other parts of Europe. I remember Poland from my childhood times and from school, but all my adult life has been spent in Ireland."
What were your first few jobs like? How did you progress in your career?
"After I graduated from university I looked for work in Ireland, which was challenging as I'd never worked in my life before. As I knew it would be hard to get a job as a teacher straight away, I decided to look for work linked to my other passion – clothes. I got a job in a clothes shop and after a few months was promoted to manager, a very responsible job but a really nice one. Then after three years I decided to return to my hobby of modelling. Some time later I started to work in my chosen profession as a teacher, and I still work in a crèche."
Describe a typical day in your role as the crèche.
"I work as a room leader. I have a class three hours a day, and work with young children to prepare them for primary school. Sometimes I also work with older children after school, helping them with homework, art and other activities.
Working with children is great. It can feel like you're playing with them and having fun, but it's a very tiring and responsible job. I have had a great response from the children and their parents, and it makes me feel like I'm doing the right thing."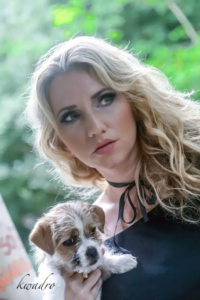 You joined a modelling agency several years ago. What did that lead on to?
"When I was a little girl I always wanted to be a teacher. I signed up with a modelling agency when I was 19, but didn't really have time to go for castings, as I was studying a lot to become a teacher and I knew this would be my main profession.
But times changed and now girls aged 30 or older are still working as models, so that's why I decided to give it another try. My mother and grandmother inspired me so much with style and fashion, teaching me that clothes are not just to be worn because you have to, or because it's cold.
I've represented Ireland three times, in Mrs Europe in Sofia, winning the best personality in Europe, and in Mrs Universe in Minsk and Mrs World in China, placing in the top 20 from around the world. I also won Style Queen, got to the final of Top Model UK and received many more awards."
You have taken a special interest in combatting domestic violence over the last few years. Why is that?
"I first got involved in this work because of a beauty pageant, during which I had to prepare a speech about domestic violence in Ireland, but also had to look at the situation in Poland, and in the Polish community in Ireland and across Europe.
After being interviewed by the media for the pageant, I received emails from all over Europe pointing out that the situation is the same there, but nobody speaks about it. I was very sad to get these messages, so I got involved personally in supporting the women and hope to set up a foundation to help them.
My dream is to continue this work, and I want to do it especially for my mother, who sadly passed away only a month ago. She told me she was a witness to domestic violence in her home as a child, and she was proud that I started to talk about this topic.
Together with my friend Rafał Simonides (a champion MuayThai boxer and the coach of the Polish team) I'd like to write a book about domestic violence and self-defence. This will hopefully help people understand how big the problem is, and will highlight the fact that it is still a taboo topic for many. It will also show people that they need to keep a look out among their neighbours, workmates etc., as they could save a life if they open their eyes to what is happening."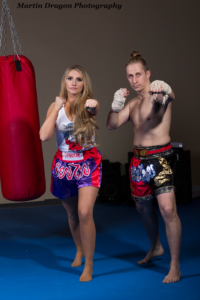 Some of your modelling involves working with animals to promote causes which protect their welfare. Why is this important to you?
"As a very sensitive person I love animals and can't bear any cruelty towards them. So if any charity asks me to help I always agree. The latest campaign I was involved in was called 'no to dog meat'. I supported it as when I was in China I saw how dogs are treated there and it's just sad."
You write a popular blog about fashion, beauty and travel. What do you hope to communicate through your blog?
"I started my blog because I was asked so many questions about such things as the clothes I wear, how to keep your skin healthy and the places I have visited around the world. So I decided to write about these things in my lifestyle blog. It's for everyone but of course most of my readers are women. I'm happy to support them, especially the busy mothers with kids, and encourage them to still look and feel great. I love bargains too, so the outfits I write about are usually affordable for everyone."
What are your hopes for the future? Where do you see yourself in three years' time?
"The most important thing for me is good health, after losing both my parents before they were 60. It made me realise how important it is to have good health; you can then dream and be happy. I'm planning to go to the USA and would love to travel around the world to visit my pageant sisters, as I have invitations to so many countries. I would also like to raise awareness of domestic violence more widely."
Przeczytaj też
Udostępnij
About Author
komentarze (0)