11 lutego 2017, 12:54 | Autor: admin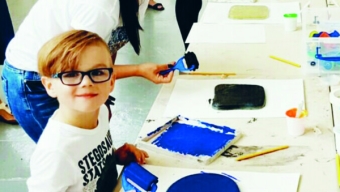 "I have regular exhibition in Yorkshire, where my work is on sale. The next one takes place from 11-12 February at the Beaver Works in Leeds, during The Resonance Full Moon Art and Music Festival," says Magdalena Brańczyk, the artist and vegan baker in interview with Brin Best.
How did you end up living in the Leeds area today?
"I was born and brought up in Świeradów-Zdrój (in mountainous south-western Poland), and then attended art college in Wrocław from the age of 15. I decided to move to England in 2009, when I was 28.
I first moved to London, to the Clapham Junction area, where I worked as a babysitter. I became interested in Indian and Turkish culture and soon managed to get a job as a belly dancer! I performed at well known London venues such as Club Tamingo and really enjoyed this work.
Having always loved art I also started to make artworks in my spare time, and began thinking about a career as an artist.
After a year I decided to move to the Leeds area, to Morley. It was much cheaper than living in London. My son Kajetan came along in 2010 and I've lived in Morley ever since.
After my son was born I worked part-time for a few years, and then when I was ready to go back to work I managed to get a full-time job in a restaurant. After that, I secured a good job in a laboratory as an assistant dental technician. I carried on making artworks and I really wanted to progress in my career as an artist. However, in 2015 I became a single mum which was tough."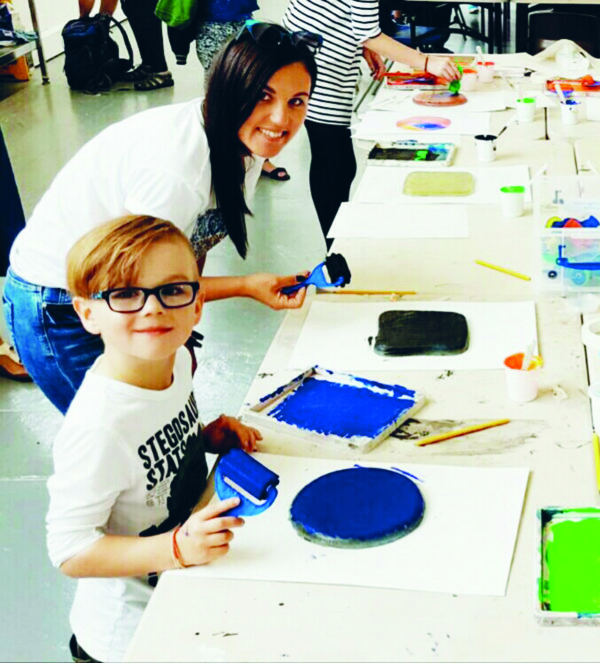 How have you found life in the UK?
"I've always felt welcome here and have never had any nasty or racist comments made about me. People have accepted me as a young Polish person here, and as a young mum.
My time in the UK has been really positive for both myself and my son. My son has had so many amazing opportunities: at playgroup, taking part in art classes for children at the art gallery, musical events and concerts and much more. We've met wonderful people from all over the world.
Kajetan speaks English and Polish very well. We speak Polish at home and he attends a Polish Saturday School locally, where he can practise speaking Polish, which is really important to me. He has friends from many different countries and we travel around Europe quite a lot.
At this moment in time we're not planning to go back to Poland. We miss it of course, but we can visit during our holidays and we always have a fantastic time there. We're happy living in England."
How has your career as an artist developed over recent years?
"I've been working seriously on my art for many years, and I launched my website in 2014, but what I needed were more contacts to help me promote my work.
I was fortunate to get the support of Barking Man, a Leeds-based non-commercial art project which promotes artists and their work. I began having exhibitions, and this included an important two-week exhibition at the Leeds Corn Exchange, in October 2016, which really helped me to establish myself. I was selling my work and it was great.
Other aspects of my life as an artist have included face painting for kids at events and parties, which I also really enjoy."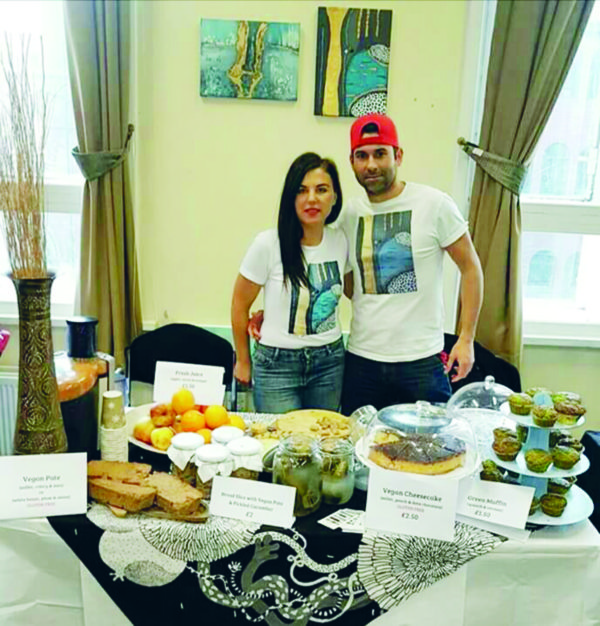 What are your inspirations and influences as an artist?
"I'm now an abstract artist working mainly in acrylic paints, though I used to work in pastels, painting landscapes. I love to mix media and try new techniques, such as using plaster and gold leaf.
I like to reshape the natural world in my art, taking inspiration from planetary space and the forms and elements of nature, and through this process I express myself. Through my work I aim to take the viewer on an inspiring journey into the unknown and the untamed.
Painting is my meditation time and I use it to help me process my emotions: about my son, my life as a single mum, happy and positive things as well as difficult emotions.
After painting I always feel more calm and relaxed. Colour is really important to me, helping to give a physical reality to my feelings. Using colour sometimes helps me turn negative emotions into positive ones. Art really does help me feel happy – it's like therapy for me."
Where can people see your art?
"I have regular exhibitions in Yorkshire, where my work is on sale. The next one takes place from 11-12 February at the Beaver Works in Leeds, during The Resonance Full Moon Art and Music Festival. My paintings will be displayed alongside work from other local artists in an interesting industrial setting."
My work can be also viewed on my website (www.majagna.deviantart.com), and on my Facebook (Majagna Art) and Instagram (majagnaart) pages. People can contact me through Facebook to buy my paintings."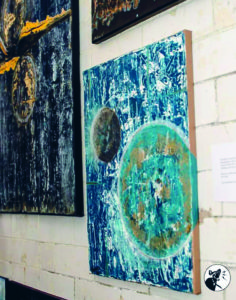 You also enjoy vegan cookery and have started a business linked to this. How did that begin?
"I've always enjoyed a healthy lifestyle and at age 17 turned vegetarian, because I was worried about animal welfare. I grew up cooking, and when I left home to go to college I had to fend for myself as a teenager in the college kitchen, making my own meals. This gave me lots of confidence cooking.
Then, four years ago, a became a vegan. Being a vegan makes me feel more energetic and I'm sure it could help make everyone feel better. I love the motto 'Be happy – be healthy – be beautiful'.
My son is interested in eating healthily too, which is great. He has picked this up from me and we both love to show others how much fun it is to make vegan food. Friends often ask my advice about cooking and a healthy lifestyle, and I'm always happy to help people achieve a more balanced diet. It's great to show people that it's possible to give children healthy cakes – parents love that idea!
I have a real passion for vegan food. I mainly like to bake marvellous vegan-friendly cakes which are gluten-free and contain fresh fruit juice. I have sold my cakes in various places, including at the Polish Catholic Centre in Leeds on several occasions. I also attended the Leeds Vegan Festival on two occasions and my cakes were very well received there!
My boyfriend Edgar has helped me a lot in establishing myself as a vegan cook, especially at events and on stalls. My specialties are vegan cheesecake, in which I use millet instead of cheese, and delicious green muffins made from spinach and coconut, which children are crazy about!
I often bake cakes for special events and parties. My view is that good food is important for everyone."
What are your plans for the future?
"First of all I want to 'be happy, be healthy'. I plan to combine my art and vegan cooking full-time. I'm especially interested in art therapy and hope to develop this aspect of my work, as well as carry on producing artworks which people enjoy and cakes which people love eating!"
FIND OUT MORE:
More information about Magdalena's vegan baking can be found on her Vegan Majagna Facebook page.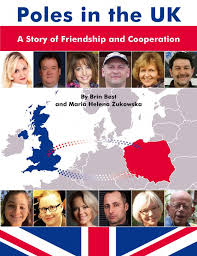 This interview was carried out as part of the 'Poles in the UK' project, and is linked to the book Poles in the UK: A Story of Friendship and Cooperation (by Brin Best & Maria Helena Żukowska, 2016). For more details see the Poles in the UK Facebook page and www.polesintheuk.net.
Przeczytaj też
Udostępnij
About Author
komentarze (1)